Consumer Alert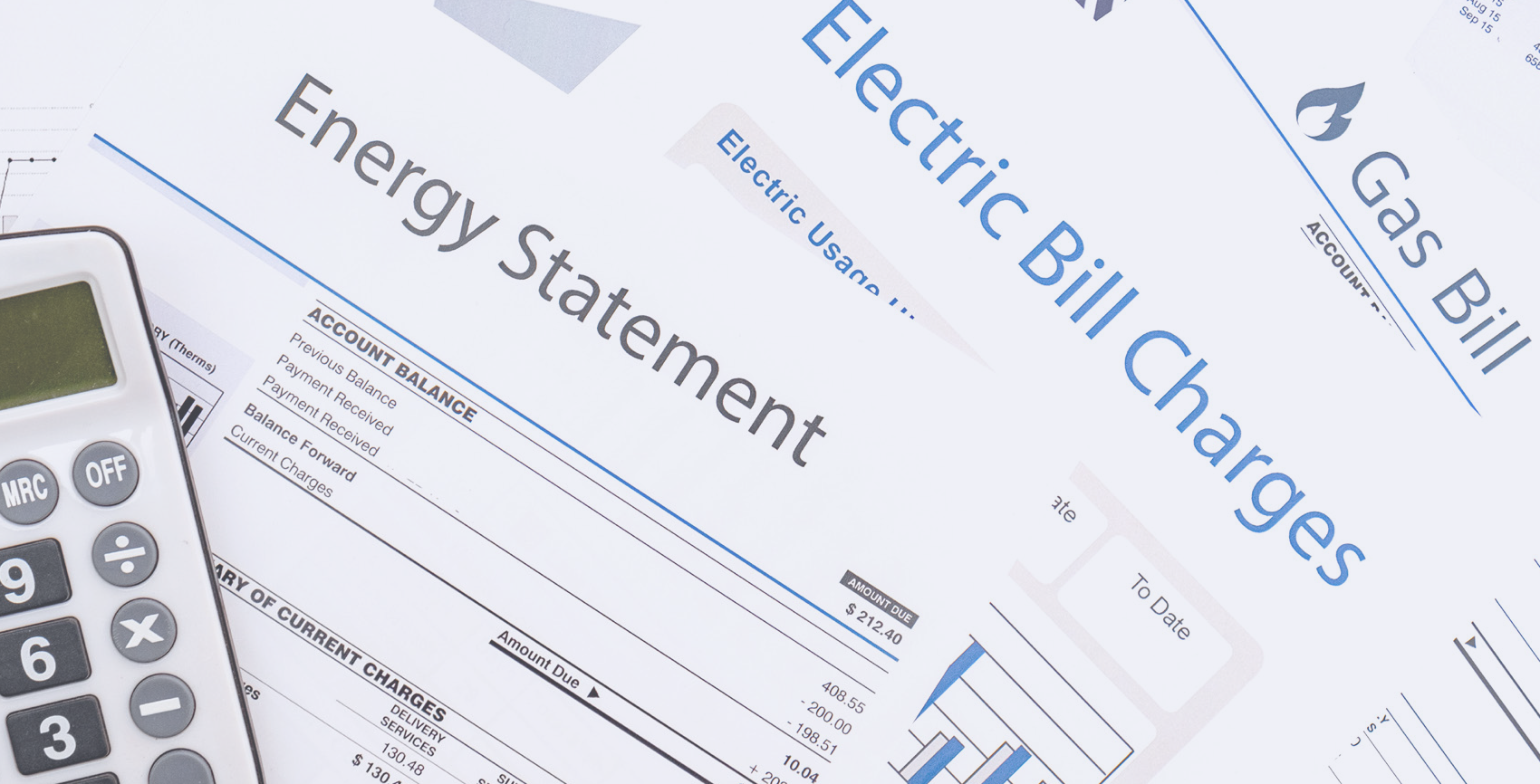 Midwest heating costs predicted to rise faster than national average
Colder temperatures are here and you've probably heard the warnings to expect higher energy bills this winter. What exactly does that mean and how will it affect you and your family here in Kansas? We've compiled some information and insights to help answer those questions.
What to expect
Natural gas prices will likely increase in all regions of the U.S. this winter, but those in the Midwest will see the largest increase over last year, according to predictions released from the U.S. Energy Information Administration (EIA). Note: A link to the complete EIA Winter Fuels Outlook appears in the Resources section below.
Higher wholesale natural gas prices are the main driver behind the expected increase. The weather is a factor as well. EIA reports colder temperatures and slightly more household consumption are expected to contribute to higher natural gas bills.
On average in the U.S., retail natural gas prices are predicted to rise 22%, from $13.02 per thousand cubic feet (Mcf) last winter to $15.95/Mcf this winter, with overall bills predicted to rise by 28% nationally. In the Midwest, retail natural gas prices are expected to average $13.80/Mcf, which is lower than other regions, but still up 27% compared to last winter. That could increase the cost to heat an average Midwestern home by 33%. The EIA outlook is careful to point out, however, that the actual impact on home heating costs is heavily dependent on weather and how unregulated wholesale energy markets react to severe weather and supply shocks. For example, the EIA's forecasted national average heating bill increases to a 51% increase under a scenario with weather that is 10% colder than expected. The EIA also points out that prices are expected to remain volatile given high international prices and low storage reserves going into the Winter.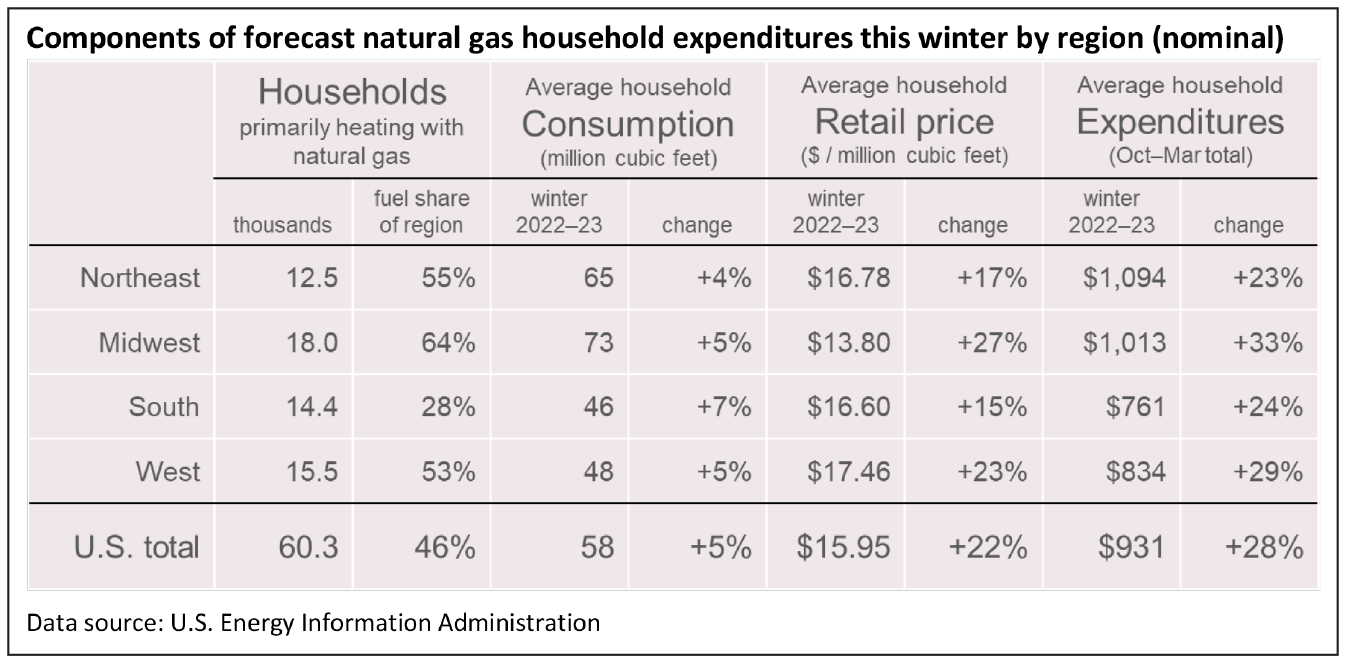 Kansas Gas utility companies are generally expected to experience increases similar to those projected by the EIA, although your individual experience will depend on your monthly gas usage, the utility you are served by, as well as how market prices for wholesale natural gas change as we enter the winter. In the last few weeks, wholesale natural gas prices for this upcoming winter have receded from recent highs, but the commodity price is still highly volatile, so it's best to prepare for increases in winter heating costs now.
Electric bills for homes using electricity as a primary means of heating are also expected to rise. That's because natural gas is often used in the generation of electricity, especially when renewable energy is unavailable due to seasonal weather patterns. During the first seven months of this year, the cost of natural gas purchased by U.S. electric generators averaged $6.61/MMBtu, which is 33% more than the average cost during the same period last year and almost three times the cost in 2020. Higher fuel costs have led to higher wholesale power prices nationwide.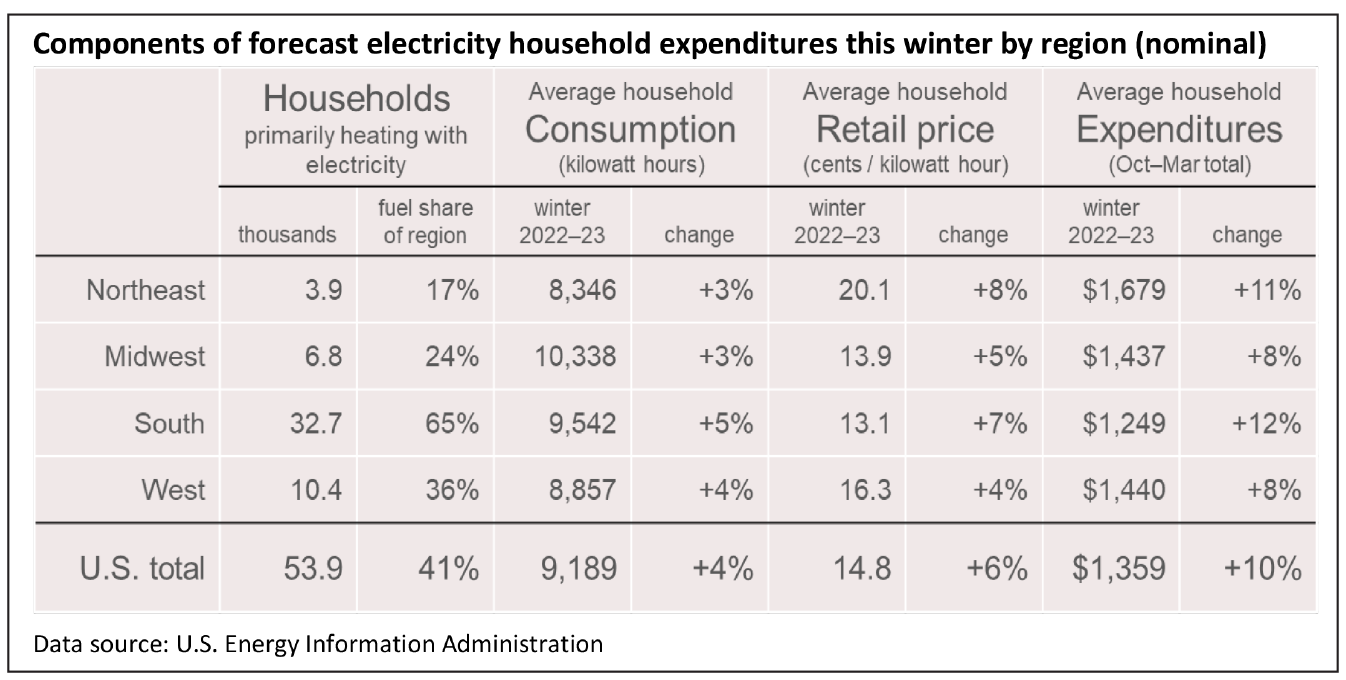 According to EIA data, Households in the Midwest that use electricity as their primary heat source can expect to pay 8% more than last year. This increase is based on a forecast of 3% more electricity consumption and 5% higher residential electricity prices. Customers of Kansas electric utilities may experience increases higher or lower than this, depending on your utility, individual usage, and factors such as the wholesale price of natural gas, and wholesale energy costs. Some of these factors are difficult to predict, so it's best to plan now for the likelihood of higher energy costs this winter.
Wholesale natural gas prices are not regulated by the KCC or any other government entity. The U.S. Congress deregulated natural gas prices back in the mid-1980s. Prices are market driven by supply and demand. Fuel costs are passed directly to the consumer meaning the utility doesn't mark-up the price or profit from it. Costs continue to be affected by a variety of issues such as high domestic and international demand, the continuing war in Ukraine, and the level of natural gas in storage in this Country.
In order to secure reliable and affordable service for consumers, the Kansas Corporation Commission continuously works with regulated utilities on ways to reduce the impact of volatile commodity prices by purchasing gas in advance at lower prices when possible and putting it into storage, executing hedging contracts which act as an insurance product against higher overall market prices, or purchasing gas at fixed prices for the upcoming winter. All gas distribution utilities regulated by the KCC are required to file an annual Gas Purchase and Hedging Plan with the Commission and meet with KCC staff several times throughout the year to discuss it. While gas utilities work to control cost increases and electric utilities are able to generate a substantial portion of their electricity with low or no fuel cost generating resources, it's not possible to avoid all cost increases associated with higher wholesale energy costs, especially when such increases persist over an extended time frame such as has occurred during 2021 and 2022.
It is important to note that these higher energy costs are audited by Commission audit staff and customers only pay the actual wholesale energy costs that their utility provider pays, without markup or profit.
Resources
Below you will find links to resources that can help you save money using energy efficiency, better understand the charges on your bill, find help if you are unable to pay your bill, and get answers to questions.