Earthquakes can occur naturally or they can be caused by human activity, which is referred to as induced seismicity. The disposal of water produced in conjunction with oil and natural gas extraction is a human activity that has been linked to induced seismicity.


Earthquakes in Kansas
From 1981 through 2010, Kansas experienced 30 recorded earthquakes.
In 2013, there were 4 recorded earthquakes in Kansas.
In 2014, there were 127 recorded earthquakes in Kansas.
In the first three months of 2015, there were 51 recorded earthquakes in Kansas.
The majority of those earthquakes occurred in Harper and Sumner Counties.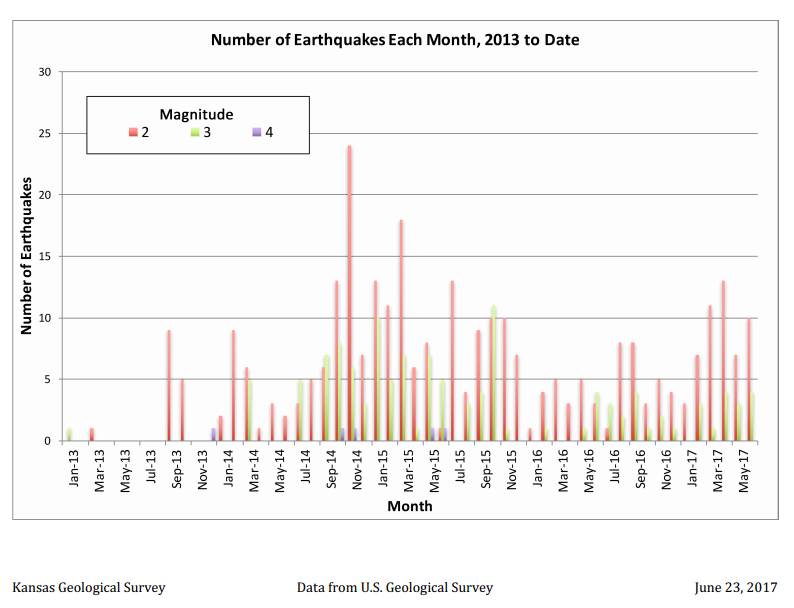 A Task Force is created.
A Task Force, made up of representatives from Kansas Geological Survey, Kansas Department of Health and Environment and the Kansas Corporation Commission, was formed to study induced seismicity in the state.
The Task Force recommended the use of sensitive seismic monitoring equipment to help detect the strength and source of the seismic activity.
The KCC takes a proactive approach.
The KCC issued an order in March 2015 that limited the volume of saltwater injections in five distinct "areas of concern" located in Harper and Sumner counties.
KCC staff monitored the effects of reduced saltwater injections on seismic activity in the area.
The Order also:
made operators verify the true vertical depths of the wells located inside the Areas of Concern,
instituted a daily injection report to be filed monthly for all large volume Arbuckle wells,
defined large volume as more than 5,000 barrels of water per day,
set a daily maximum injection level of 25,000 barrels per day for wells outside of the areas of concern within Harper and Sumner County.
After the initial 180 day period of reduced volume, the Commission extended the order for a further 180 days.

Source: United State Geological Survey

Source: United State Geological Survey
The KCC issues a second order extending limits outside the orignal areas of concern.
While monitoring the effects of reduced saltwater injections after the initial Commission order, KCC staff noted a decrease in earthquakes that were 2.5 magnitude or larger in the "areas of concern", but also noted an increase in smaller earthquakes outside of those areas.
In response, the Commission issued a second order in August 2016.
This second order extended limits beyond the five areas of concern to include parts of Harper, Sumner, Kingman, Sedgwick, and Barber counties.
However, the volume limits within the 5 original areas from the first Commission order remained in place.
The areas subject to the Second Order had a daily maximum injection limit of 16,000 barrels per day rather than the 25,000.

Results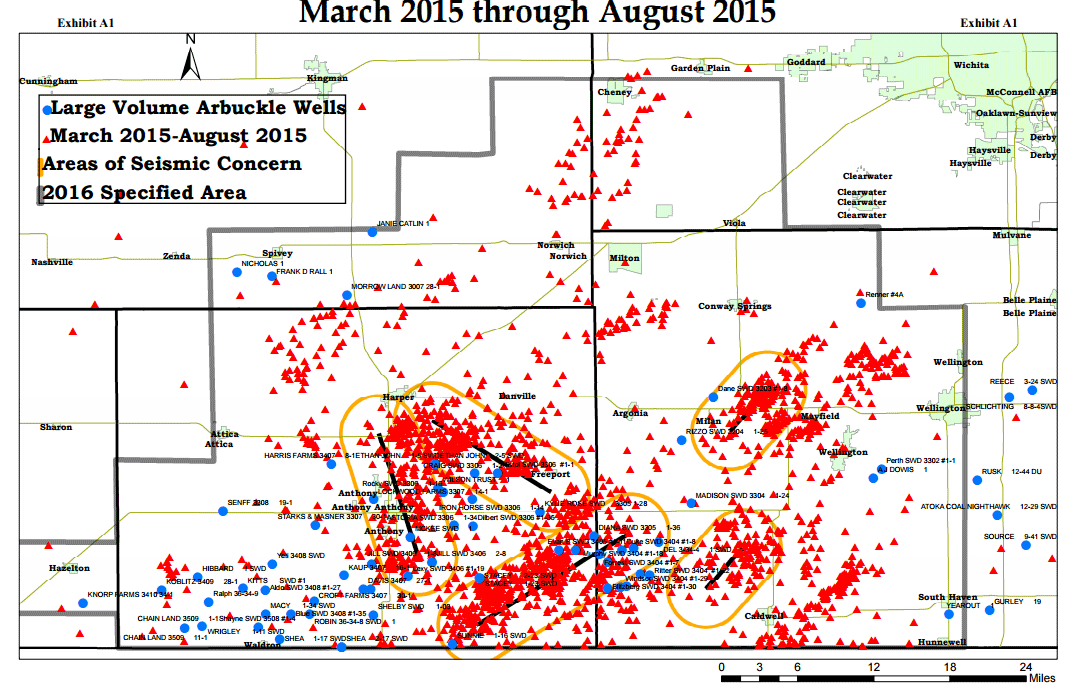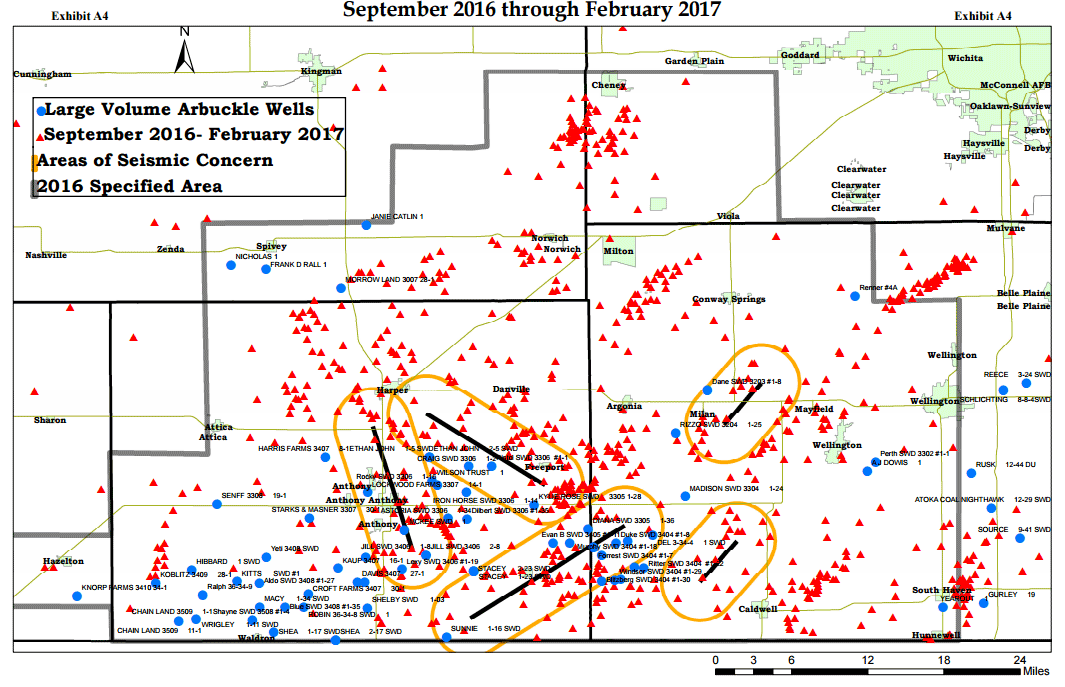 What's next?
While the downward trend of seismic occurrences and magnitude can be viewed as positive news, the report specifically recommends further monitoring and analysis of data.
Additionally, a number of factors can affect drilling activity and seismicity beyond regulatory action: the price of oil, surrounding states' injection activity and other factors may also impact seismicity in Kansas.
Kansas Corporation Commission Staff, Kansas Department of Health and Environment and the Kansas Geological Survey will continue to monitor seismic activity and report to the Commission about their findings.


For more information about Injection Wells, Hydraulic Fracturing (Question #14), or other topics related to Oil and Gas Production in Kansas, please visit our Frequently Asked Questions page.